Grandjany Centennial Fund
Salzedo Centennial Fund
Grandjany Centennial Fund
"Marcel Grandjany: The Teacher" DVD
"Music for the Harp" CD
Contributions to the Grandjany Centennial Fund have made possible the production of a DVD entitled "Marcel Grandjany: The Teacher". The hands of Marcel Grandjany are captured in this video. We see and hear the main aspects of his method through demonstration of his finger exercises and their application to the repertoire as he plays examples from eighteen excerpts and several improvisations.
The content of most of the Grandjany CD, "Music for the Harp", was personally selected by Grandjany in 1972 in celebration of the Tenth Anniversary of the American Harp Society. The CD includes Fantaisie on a Theme of Haydn (Grandjany), Sonata for Harp (Hindemith), Sonata in A Minor * (Soler), El Viejo Castillo moro* (Chavarri), Sacro-Monte* (Turina), Spanish Dance No. 1 from La Vida Breve* (Falla), Introduction and Allegro (Ravel), Danses: Sacrée et Profane (Debussy), The Children's Hour (Grandjany), Barcarolle (Roger-Ducasse), and Rhapsodie (Grandjany).
* Transcriptions by Grandjany
CD includes:
"Fantasie on a Theme of Haydn" by Grandjany,
"Sonata for Harp" by Hindemith,
"Danses Sacree et Profane" by Debussy
and "Rhapsodie pour la Harpe" by Grandjany.
Available for purchase in the AHS Online Store.
CD $18 DVD $25
Salzedo Centennial Fund
Sheet Music Currently Available:



Debussy

La Cathedrale Engloutie
(arranged for 7 harps)

$40 (2 scores, 7 harp parts)

Debussy

Children's Corner Suite
(transcribed for flute, 'cello, & harp)

$35 (score, flute & cello parts)

De Falla

Seven Spanish Songs
(arr. for voice and two harps)

$20 (1 score)

Salzedo

Pentacle
(suite for two harps)

$20 (1 score)
Available for purchase in the AHS Online Store.
Recordings Currently Available on CD:
Salzedo: On The Air!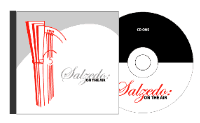 This unique two-CD set presents the renowned harpist and composer, Carlos Salzedo, as he sounded in a series of national radio broadcasts originating from New York City as early as 1934. The listener hears the master perform and speak.  Also included are interview excerpts from a tribute to Salzedo shortly after his death in 1961, including Leopold Stokowski, Arnold Michaelis, Edgard Varèse, Martha Graham, and Lucile Lawrence. This CD set is the first of several recordings planned for release during the next few years by the Salzedo Centennial Fund of the American Harp Society. Proceeds of the sale of this CD set will be used to defray the costs of this first release and of future releases, which will include additional live radio transcriptions as well as re-releases of some of Salzedo's studio recordings.
This two-CD set costs $25 and is offered for sale in the AHS Online Store.
Pentacle Salzedo's Biography by Marietta Bitter

Pentacle
This account of Carols Salzedo's life, written by his student and colleague Marietta Bitter, recounts his remarkable life story. She gives us the fascinating details of his professional and personal life, as well as the kind of intimate detail only possible from a close friend who was herself an eye witness to many of the events she describes. An indispensable book for those interested in the history of the harp, it will also fascinate readers looking to expand their understanding of the development of our American classical music scene.

Jules Bouy Tapestry
Limited Edition Poster
The famous Jules Bouy Tapestry from the Salzedo School in Camden, Maine. Available now for the first time in a limited edition poster.
Suitable for framing, it fits a standard 2'x 3' poster frame.
$25 USA/$35 Canada
Available for purchase in the AHS Online Store.
Future Projects
Publications
The AHS, Inc. Salzedo Centenial Fund has prepared a list of additional compositions, transcriptions or arrangements by Carlos Salzedo which are otherwise unavailable to the public. We will publish these when funding permits, copyright clearance is verified, and they are copied and made 'camera ready'. Watch this space!
For Information, Contact: John Carrington, Co-Chair at john_carrington@hotmail.com, or Ellie Choate, Co-Chair at elliechoateharp@gmail.com.