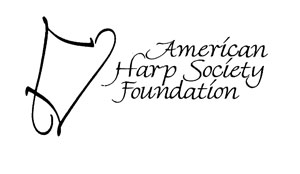 Founded in 1993 as a separate support organization of the American Harp Society, the AHS Foundation is a non profit [509(a)(3)] organization in which donations are held for specific educational projects.  The Foundation houses specific named endowment funds. The American Harp Society Foundation provides a legacy for the future of the American Harp Society.  There are sixteen funds in which donations are held for specific educational projects, such as scholarships, awards, and prizes, each in accordance with the intent of the original donor. The longevity and excellence of the Society's educational projects and scholarships are ensured by the work of the Foundation.  You can be a part of that legacy.
The AHS Foundation has established a new Memorial fund to honor the legacy of Dorothy Remsen, who passed away on October 5, 2010. She was one of the founding members of the AHS Foundation and from 1993 to the present time acted as either secretary or secretary emeritus. She was a great help to all members of the Foundation and was loved and respected by all.
Dorothy Remsen's service to the harp and the American Harp Society, Inc. spans more than three decades and encompasses many different jobs including those of Los Angeles Chapter President, Western Regional Director, six years as National Secretary, 27 years as Executive Secretary, serving as the National Competitions Chairman in 1966, and as the National Competitions Office Assistant for many years. Dorothy Remsen was honored with the AHS Lifetime Achievement Award in 2004.
For Foundation questions, please visit www.HarpFoundationAHS.org or contact Carrie Kourkoumelis at manystrings6@verizon.net.
History of the AHS Foundation
In 1990, a small group of long-time members of the AHS (Burton Adams, Wenonah Govea, Sally Maxwell, Jack Nebergall, Ruth Papalia, and Dorothy Remsen) foresaw the potential of such an organization.  Beginning with the Nebergall Award, the Karl Carlson Award, and the Doris Calkins Award in 1993, the Foundation now houses sixteen separate funds.  Each fund within the Foundation is designated for a specific purpose. Only a portion of the interest/gains is given for each award and scholarship, thereby creating and building an endowment to ensure the funds and their growth in perpetuity.