Every summer the American Harp Society hosts national gatherings. The National Conference, held in even-numbered years, features concerts by brilliant artists from around the world, workshops on wide-ranging topics, master classes with world-class teachers, and scholarly lectures to feed your intellectual soul, as well as an exhibit hall with a dizzying array of harps and related items.
The Summer Institute, held in odd-numbered years, focuses on the student harpist with workshops, master classes, and concerts by the best performers and pedagogues in the world. The Summer Institute is held in conjunction with AHS National Competition, where dazzling young harpists compete for awards and scholarships.
Members are invited to take advantage of these incomparable educational and networking opportunities.
2022 44th American Harp Society, Inc. National Conference
The 44th National Conference is scheduled for June 22-25, 2022 in the stunning Washington Pavilion in Sioux Falls, South Dakota. Several performances will also be presented in First Lutheran Church and First Congregational Church, just steps away from the Pavillion. Interested parties are invited to submit proposals for workshops and performances by May 30th.
We will meet in the heartland to come together as a community of artists celebrating the AHS at 60 (founded in 1962!), rejoicing in the opportunities to be together again to learn with and from each other, and to revel in the sounds of live performances coming from the award winning Mary Sommervold auditorium stage. The exhibit spaces in the Washington Pavilion will be at the very center of the conference action. In keeping with the wide open spaces of the American prairie, there will be room for everyone with room to spare, both lift gate and standard height delivery doors into the Pavilion itself, onsight security, and -- we trust -- quite a few harpists converging on Sioux Falls to come together in person, again! We hope you will join us for the 60th Anniversary celebration of the harp, harpists, and the AHS.
Hotel information will be published shortly.
2024 45th American Harp Society, Inc. National Conference
(rescheduled from 2020 & 2021)
"That's Entertainment!"
June 16-19, 2024
Renaissance Orlando at Sea World
The 2024 National Conference in Orlando Florida, hosted by the Central Florida Chapter at the spectacular Renaissance Orlando at SeaWorld, will celebrate our musical legacy with the welcoming theme of enjoyment and entertainment. "People come to Florida to be entertained. Our goal is to make sure people enjoy themselves," says Jan Jennings, National Conference Chair.
Conference programming will focus on the following areas:
The history & legacy of American popular music transformed by the iconic American harpists who brought their cultural influences to the repertoire
Professional development & repertoire resources that inform teaching and advance skills
Health & wellness practices that support the physical and emotional stamina needed for musicians to thrive
Business, Marketing, and Technology for musicians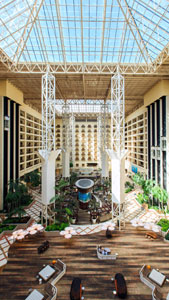 The 2024 National Conference venue is the beautiful Renaissance Orlando at SeaWorld, in a heart-of-it-all location! The hotel is a short walk from SeaWorld, and is located near exciting International Drive with hundreds of restaurants only minutes from the property. Orlando International Airport is just 20 minutes away. The Renaissance also provides complimentary transportation which will take attendees to Universal, Disney, and Outlet Malls. A link for online reservations and a reservations phone number will be published later in June, 2023. The Renaissance's regular "rack rate" is $269/night, plus parking and resort fees, but for the Conference AHS has negotiated an amazing rate of $154/night plus tax, including the resort fee and parking! Share a double queen room with a friend and it's very affordable. These special rates are available for seven days before and three days after the Conference, so stay and enjoy one of the US's top entertainment destinations.
This once-in-a-lifetime conference experience will surprise and delight with new perspectives on our instrument and its repertoire set against the backdrop of Central Florida's world-class entertainment industry and memorable attractions.
2019 13th American Harp Society, Inc. Summer Institute and National Competition
June, 2019
University of North Carolina School of the Arts, Winston-Salem, NC
www.ahssummerinstitute.org
www.facebook.com/AHSSummerInst
Destination Innovation: Propelling Harpists into the Future.
The state of North Carolina is known for being FIRST IN FLIGHT since the Wright Brothers piloted the first powered airplane in 1903 at Kitty Hawk, NC. With the idea of "taking flight", the host committee plans to "propel" the harpist and the teacher forward with advanced ideas, creative concepts, and greater knowledge of our craft. Through masterclasses, workshops, concerts, and a composition contest, the Institute will highlight past and present innovators of the harp to inspire future innovation. Concerts will feature repertoire performed by professional and accomplished student harpists, as well as potentially headline acclaimed North Carolina-based composers, such as Dan Locklair, Terry Mizesko, and Stephen Jaffe.
The University of North Carolina School of the Arts (UNCSA) is America's first state supported public university of arts conservatories. It is one university with five conservatories: School of Music, School of Dance, School of Filmmaking, School of Design and Production, and School of Drama. With an internationally renowned faculty, UNCSA trains students at the high school, undergraduate and master's levels for professional careers in the arts. The School of Music also collaborates with the Chamber Music Society of Lincoln Center in New York City to form the Chrysalis Chamber Music Institute at UNCSA, giving graduate students important opportunities to collaborate artistically.
UNCSA is a safe and friendly conservatory campus, which offers a wide variety of spaces and facilities to host the American Harp Society (AHS) 2019 Summer Institute and Competition. We boast two dedicated music buildings situated next door to each other. Both buildings are easily accessible for the loading/unloading of harps, one located all on one floor and the other with two floors accessible by elevator.
North Carolina has a rich performing arts heritage and home to many respected professional arts organizations, including the North Carolina Symphony, Charlotte Symphony, Brevard Music Festival, Eastern Music Festival, North Carolina Opera, Carolina Ballet and the internationally respected University of North Carolina School of the Arts, which all play a vital role in educating our talented youth while inspiring our community. The state has also produced some of the world's talented musicians, representing all genres of music, including Doc Watson, Nina Simone, The Krugar Brothers, James Taylor, The Avett Brothers, Emmylou Harris, Etta Baker, Ben Folds, Roberta Flack, and Jeremy Denk.
Located in the foothill region of central North Carolina, the city of Winston-Salem, NC (City of Arts & Innovation) has an unparalleled dedication to the fine arts, theatre, and technological research. "A charming southern getaway," Winston-Salem is the fifth largest city in the state and offers a plethora of museums, historical sites, cutting edge restaurants, wonderful hotels, bed & breakfasts, and the world-class medical facilities of Wake Forest Medical Center and Baptist Hospital. In fact, the very first Arts Council in the United States was established in Winston-Salem in 1949.
In 2012, Winston-Salem was listed among the ten best places to retire in the United States by CBS MoneyWatch. The city of Winston-Salem is surrounded by more than 45 award-winning wineries within an hour's drive. The majestic Blue Ridge Mountains are a mere 1.5 hours to the west, where you can climb Mt. Mitchell, the highest peak on the eastern seaboard, or hike Linville Gorge, the deepest gorge east of the Grand Canyon. If you travel 3 hours east, you will be on the white, sandy beaches of the Atlantic Ocean, at places like Nags Head, Kitty Hawk and Wrightsville Beach.
Downloads