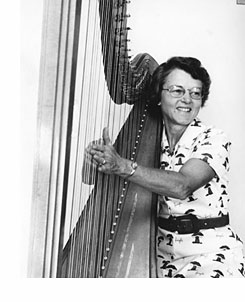 The Board of Directors of the American Harp Society, Inc. announced the establishment of the Lynne Wainwright Palmer Fund, comprised of gifts from friends and loved ones wishing to honor her life of dedication to the harp.  A legendary teacher, performer, composer, and arranger in the Pacific Northwest, Lynne Wainwright Palmer passed away on April 21, 2010. Her newly published music was featured at the 2010 American Harp Society Conference in Tacoma, Washington, and a tribute concert and tea was a highlight of the conference.
At the age of 16, Lynne Palmer (then Betty Evelyn Wainwright) was teaching harp at Louisiana State University, an early milestone in what would become a distinguished musical career.  Her study with the renowned Carlos Salzedo at the Curtis Institute prepared her for stints as principal harpist in some prestigious orchestras, including those conducted by Leopold Stokowski, Fabian Sevitsky and Eugene Ormandy.
Lynne established a Harp Department at the University of Michigan, and later introduced the Salzedo method to harpists in the Pacific Northwest as a member of the University of Washington faculty. While raising five children, she was also an active member and officer of the American Harp Society, launched the careers of scores of private students and, intent on increasing repertoire for the harp, studied composition with Gerald Kechley. Her works range from solo harp to orchestral pieces in classical, jazz and pop styles, and have been recorded, nationally broadcast and extensively performed.
Palmer had been active in the American Harp Society since 1968 when she served as president of the newly-formed Seattle Chapter.  She had been Regional Director, Chairman of the Board and a member of the Executive Committee, as well as Conference Chairman in 1974. In 1984, Palmer was honored by an invitation to give the opening recital at the American Harp Society's National Conference in St Paul, Minnesota. This recital was made up entirely of her own compositions for the harp and included her daughter playing the flute.
For further information, please contact: Jan Bishop, 624 Crystal Ave., Findlay, OH 45840, Email: ahsbookkeeper@gmail.com