David Kolacny has been repairing, renting and selling harps for over 30 years. He manages Kolacny Music in Denver Colorado, a family business started by his Grandfather in 1930. With his wife Debbie he publishes harp music as Harps Nouveau.
David has served the American Harp Society, Inc. as Chairman of the Board, National Treasurer and various other Board positions. As a graphic designer David created logos that have been used by the Society for many years. He also wrote the slogan "AHS membership, more than just a magazine".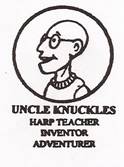 Uncle Knuckles Knews was created by William Lovelace with artwork and cartoons by David Kolacny. Uncle Knuckles was a supplement to The American Harp Journal from 1994—2007. Its aim was to appeal to the youngest members of the American Harp Society, Inc.
David became National Exhibit Chairman for the American Harp Society in 1988 and has managed the exhibits for 18 National AHS Conferences. He has also run exhibits for The World Harp Congress and many Folk Harp conferences.
David is a member of the Lyon & Healy/Salvi Technicians Guild and is currently President of the International Society of Folk Harpers and Craftsmen. David may be best known for his book, Trouble Shooting Your Lever Harp and the "Official Harp Mover" t-shirts.